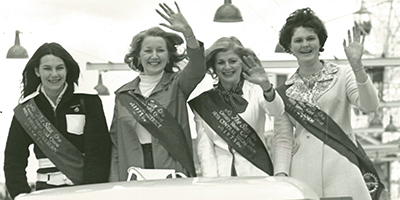 Calling all former Miss Show Girl entrants
2017 marks 60 years since the introduction of Sun-News Pictorial Miss Show Girl Competition in Victoria. Introduced in 1957, the event was open to girls aged between 16 – 25.In order to find a winner, most Victorian country shows ran a qualifying heat with each local winner eligible for the final, which was judged at the Royal Melbourne Show. The competition evolved over time and reflecting social change, was eventually replaced by competitions inclusive of females and males.
RASV Heritage is preparing an exhibition on Miss Show Girl to mark the anniversary and would love to hear from any contestants involved in the competition over the years.
Please contact: Dr Annette Shiell, Heritage Curator Email: annette.shiell@rasv.com.au Tel: (03) 9281 7427